Insoles for High Heels: Elevate Comfort and Support
High heels are undoubtedly stylish, but they often come with discomfort and foot strain. When you find yourself needing to wear high heeled shoes, there's a solution to make them more comfortable. As a podiatrist, I'm here to provide some insights on how you can enhance your high heel experience with the Ergonx slimline orthotic insole.
Ultimate Comfort for High Heels with Ergonx Slimline Orthotic Insoles
Understanding the Need for Insoles in High Heels
While high heels are not the most functionally efficient choice for your feet, we understand that special occasions may call for them. That's where the Ergonx slimline orthotic insole comes into play as as far as insoles for high heels are concerned. These insoles are designed to add comfort and support to high heeled shoes, ensuring your feet remain as happy as possible. Some of the first signs that extra support may be needed in your shoes are pressure on the heel and forefoot, pain in the ankles, foot pain, heel pain, first step pain and general tired aching feet and legs.
Arch Support and Deep Heel Cup
The Ergonx slimline orthotic insole is essentially an arch support orthotic insole with a deep heel cup. This design helps support your feet and limits excessive rolling in high heels. The deep heel cup also cushions your heel by keeping your foot's natural fatty pad beneath it. With this insole, you can say goodbye to the discomfort of slipping out of your high heels and hello to a bit more arch support and added comfort.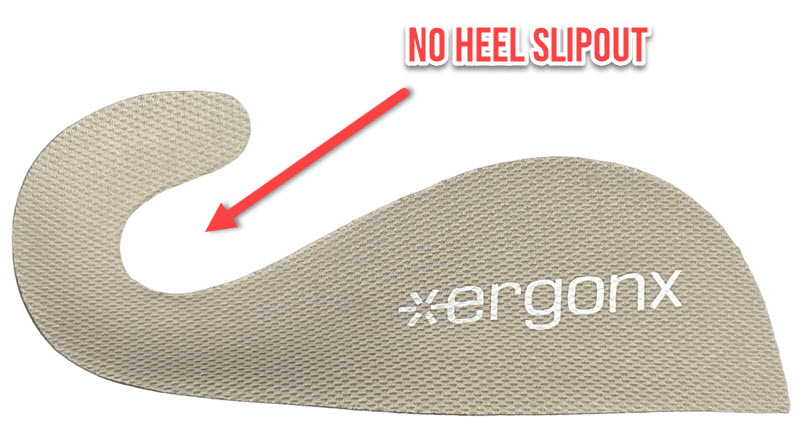 Perfect for Enclosed Heel High Heels
It's important to note that the Ergonx slimline orthotic insole is best suited for enclosed heel high heels. This design ensures that the insole won't slip out at the back, making it the perfect choice for your special event where you need both arch support and high heels.
Experience the Difference
If you have a formal event, a special occasion, or any other reason to wear high heels, consider the Ergonx slimline orthotic insole. This insole is designed to make your high heels more comfortable, allowing you to enjoy the event without the pain and discomfort that often comes with wearing high heels.
High heels can be more comfortable with an orthotic insole
While high heels may not be the most foot-friendly option, you can take steps to make your experience more comfortable. The Ergonx slimline orthotic insole is a great product that provides the support your feet need, even in high heels. This technology is designed to prevent discomfort and ensure your feet feel good throughout your event. Say goodbye to the pain and discomfort, and step into your high heels with confidence. Enjoy the night in style with the support you need.