Regular price
$239.95 AUD
Regular price
$218.14 AUD
Sale price
$239.95 AUD
Unit price
per
Sale
Sold out
Aus Podiatrist Designed
Free Size Exchange / Returns
Free delivery over $49
AUS & NZ Safety Standards Approved (Click To Expand)

Heel Counter Material
Yes - 2.0mm A grade thermoplastic - Rigid

Steel free?
Yes

Safety toe material? Steel Toe equivalent light weight safety fibreglass composite + scuff protector

Upper material?
Full Grain Leather

Lining Material?
Moisture Wicking Mesh

Outsole / Midsole material? EVA Shock absorbing + anti slip

Torsional Stability (Shank)
Yes - Very rigid embedded shank

Penetration Resistance
Yes

Antistatic
Yes

Slip Resistant
Yes

Resistance to Hot Contact
Yes

Resistance to Fuel Oil
Yes
Steel Toe Equivalent Composite Safety Toe Cap (Airport Friendly)
Relieves Plantar Fasciitis
10+ hr day comfort / lightweight
Stop Aching Feet, Knees & Back
6 mth outsole warranty
Includes Orthotic Insoles ($49.95 value)
Full Grain Leather, Heat & Oil Resistant
View full details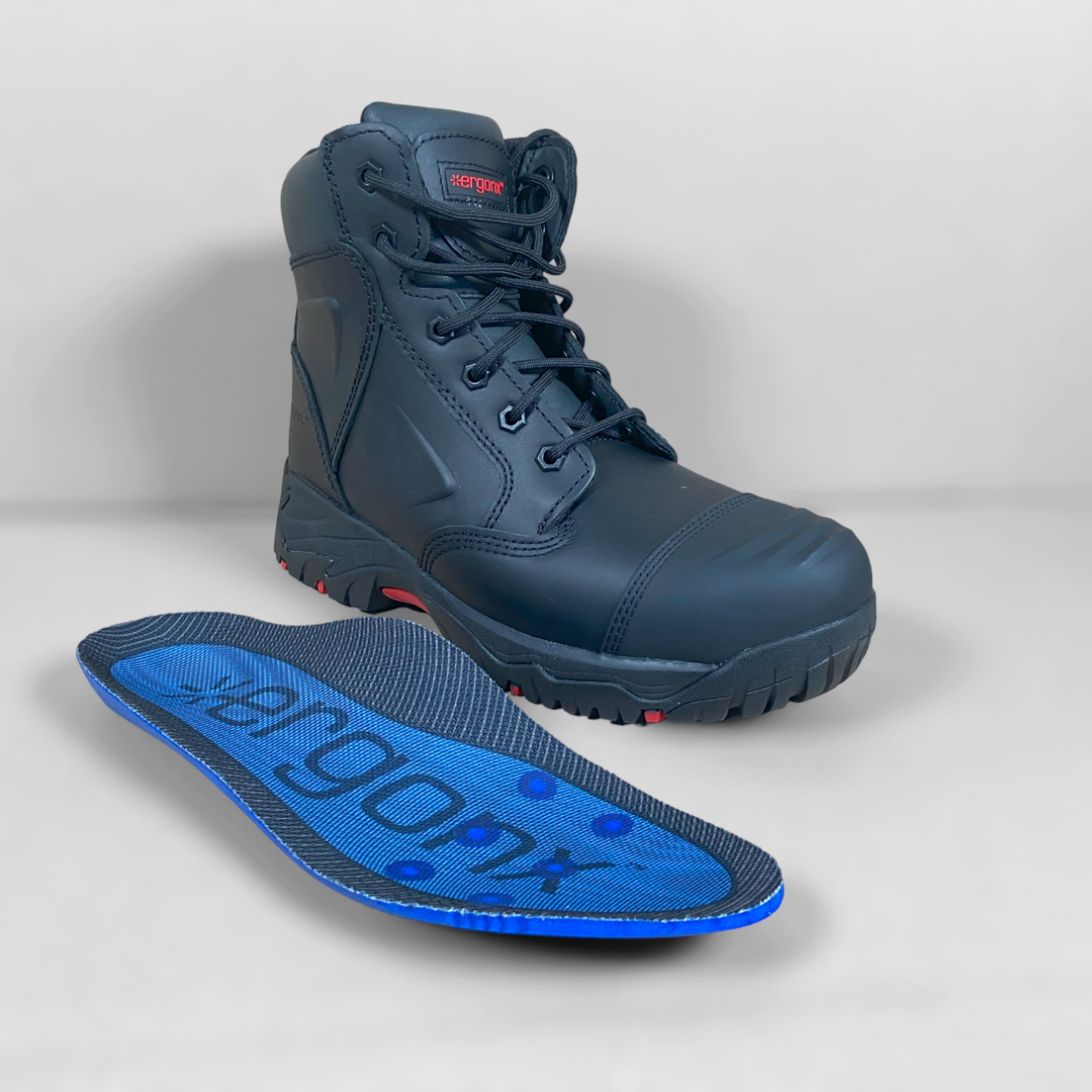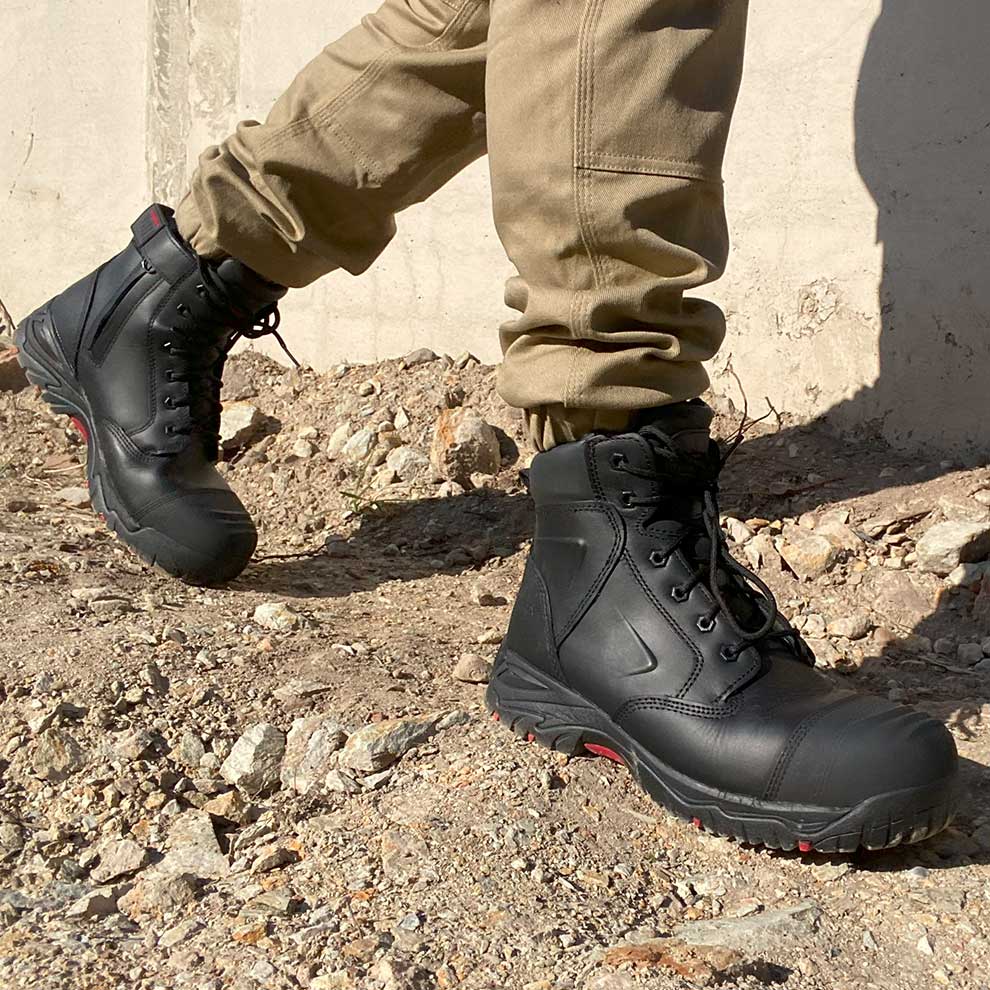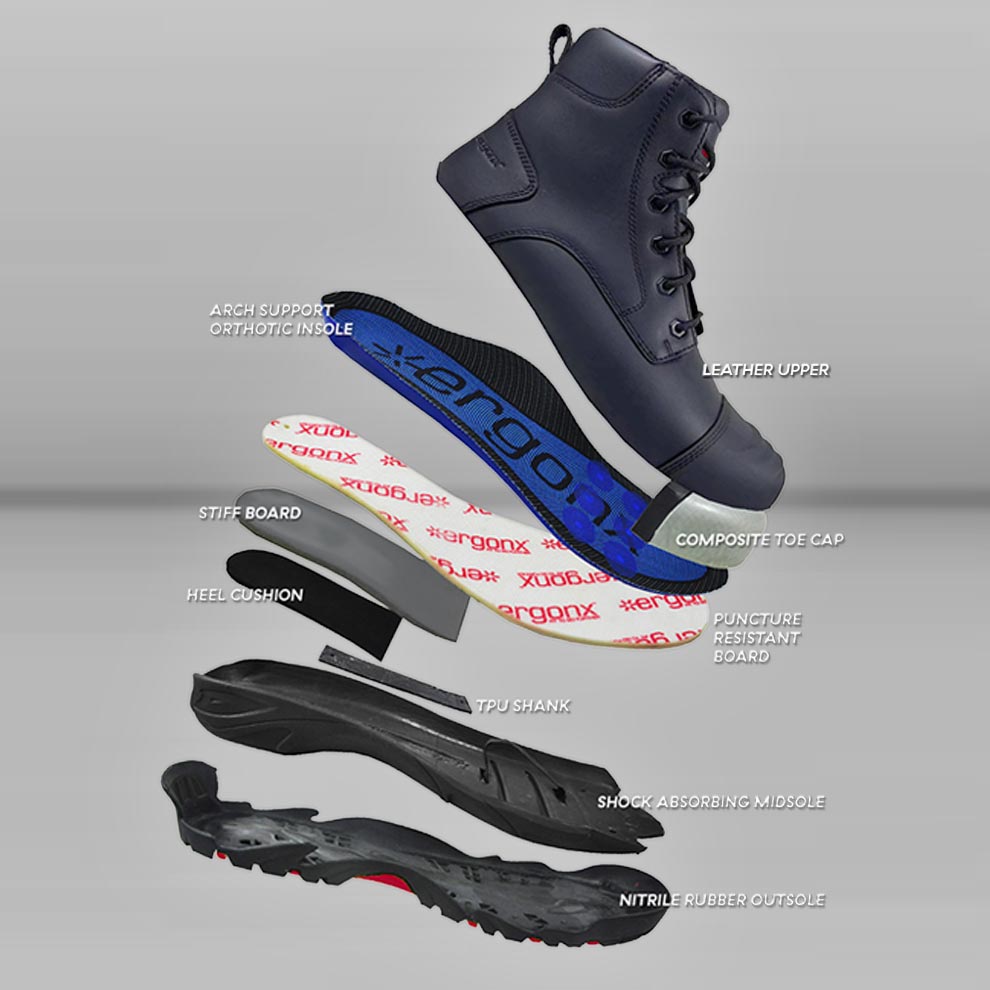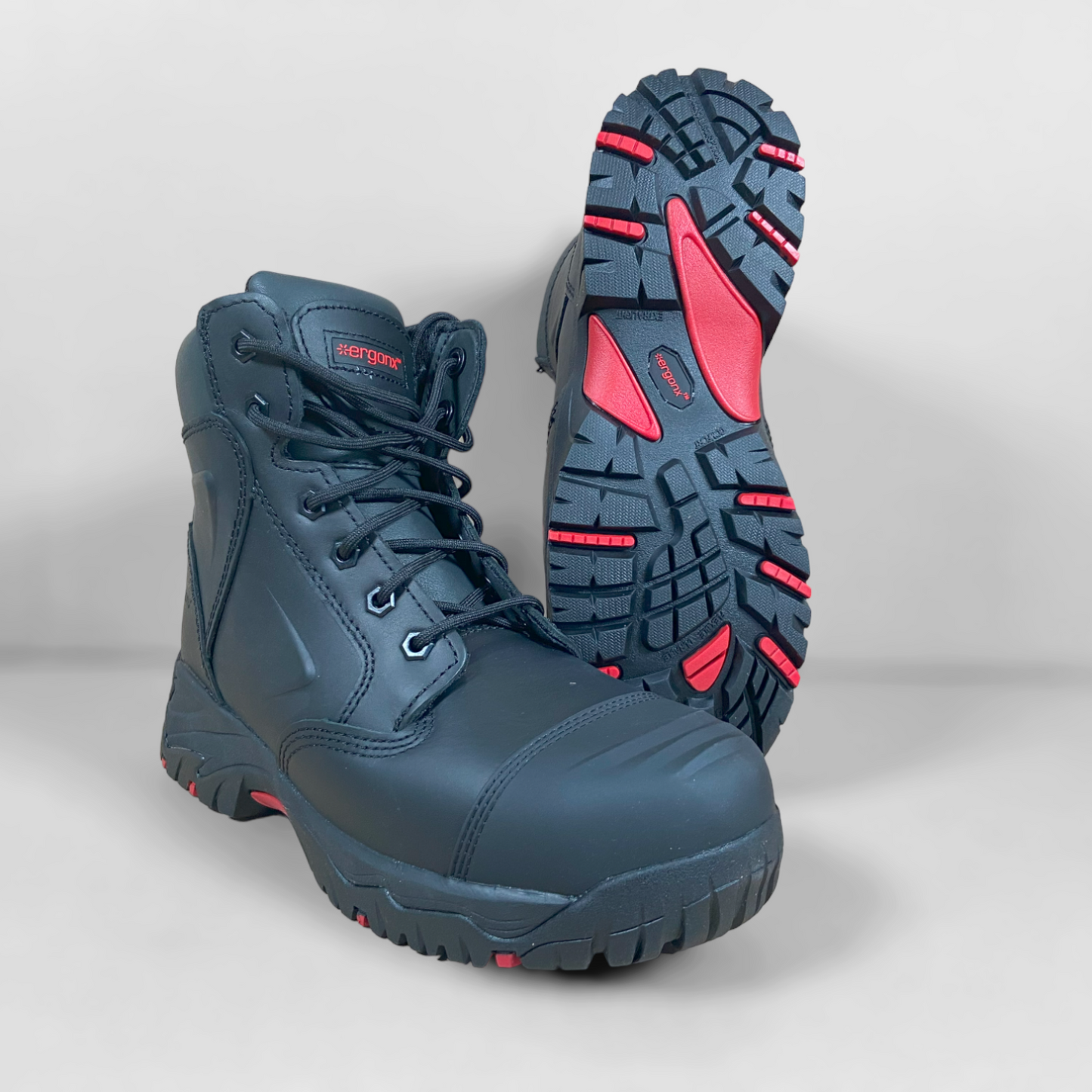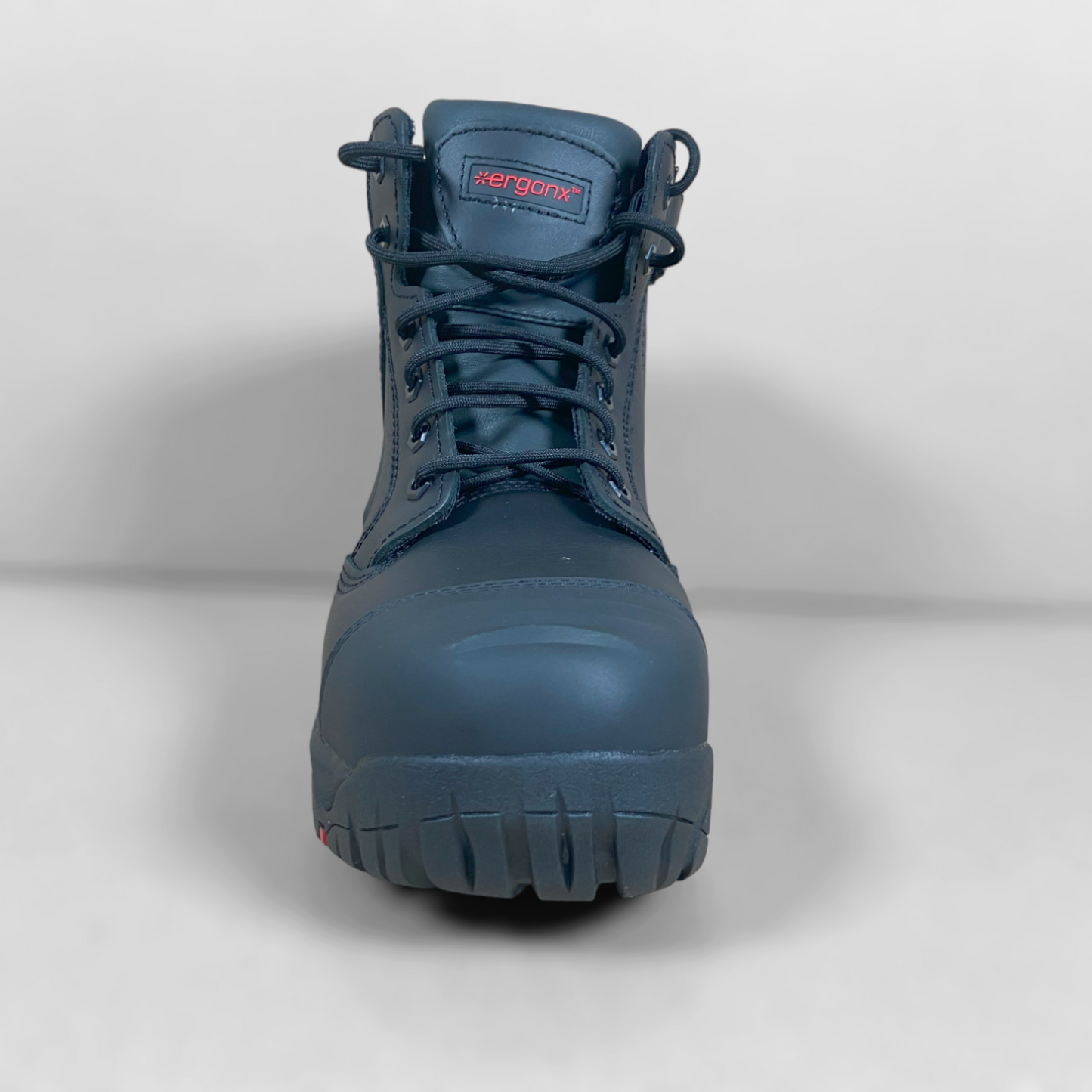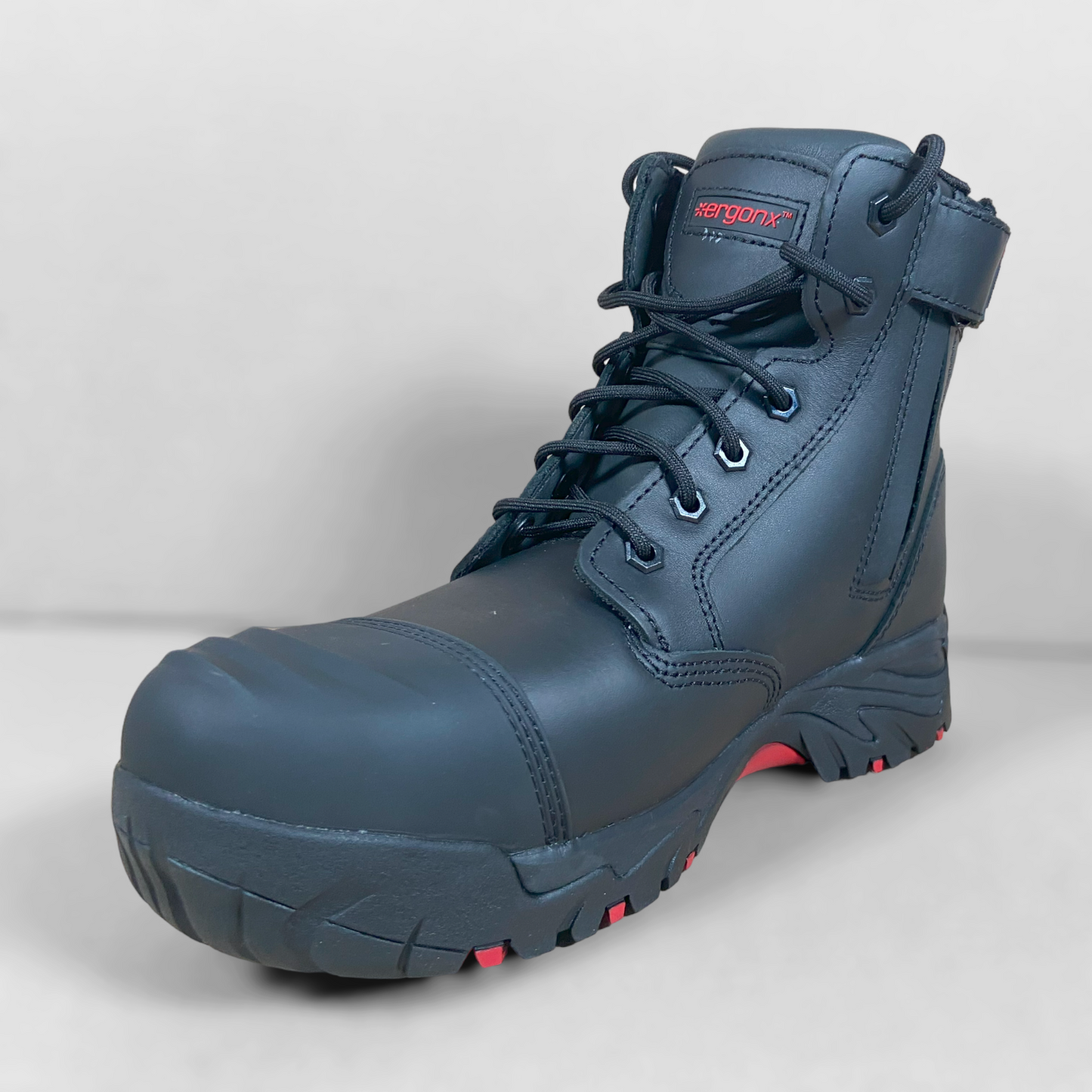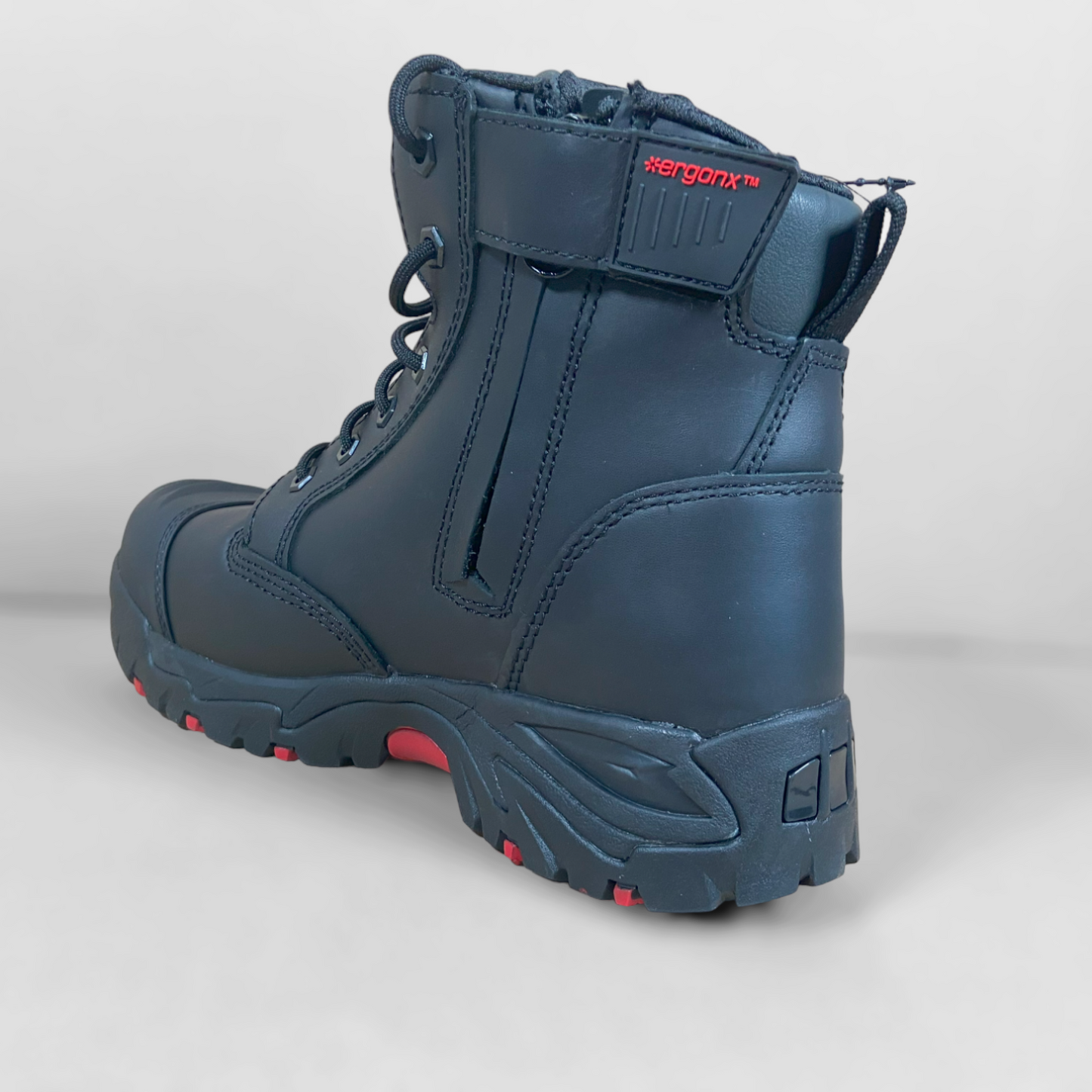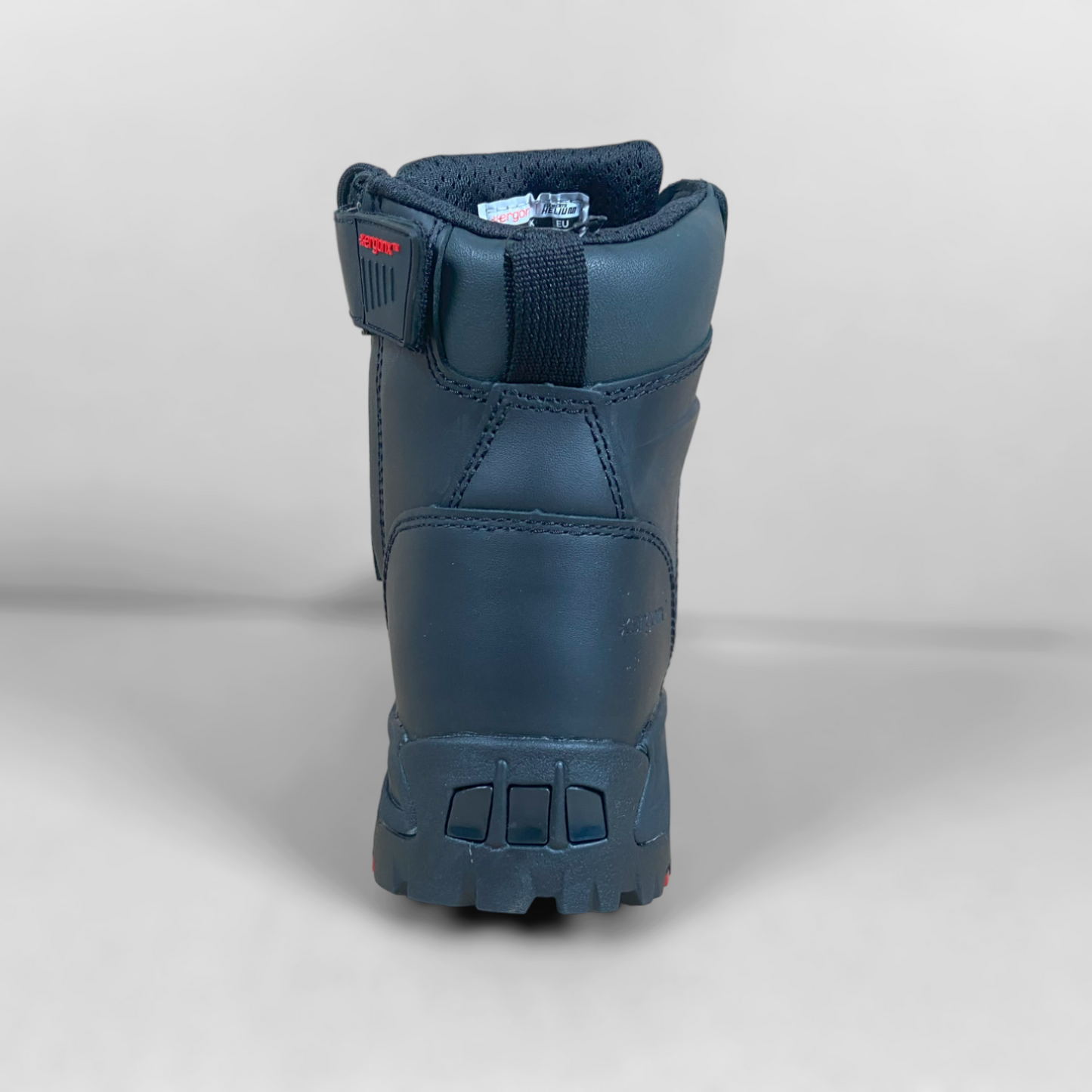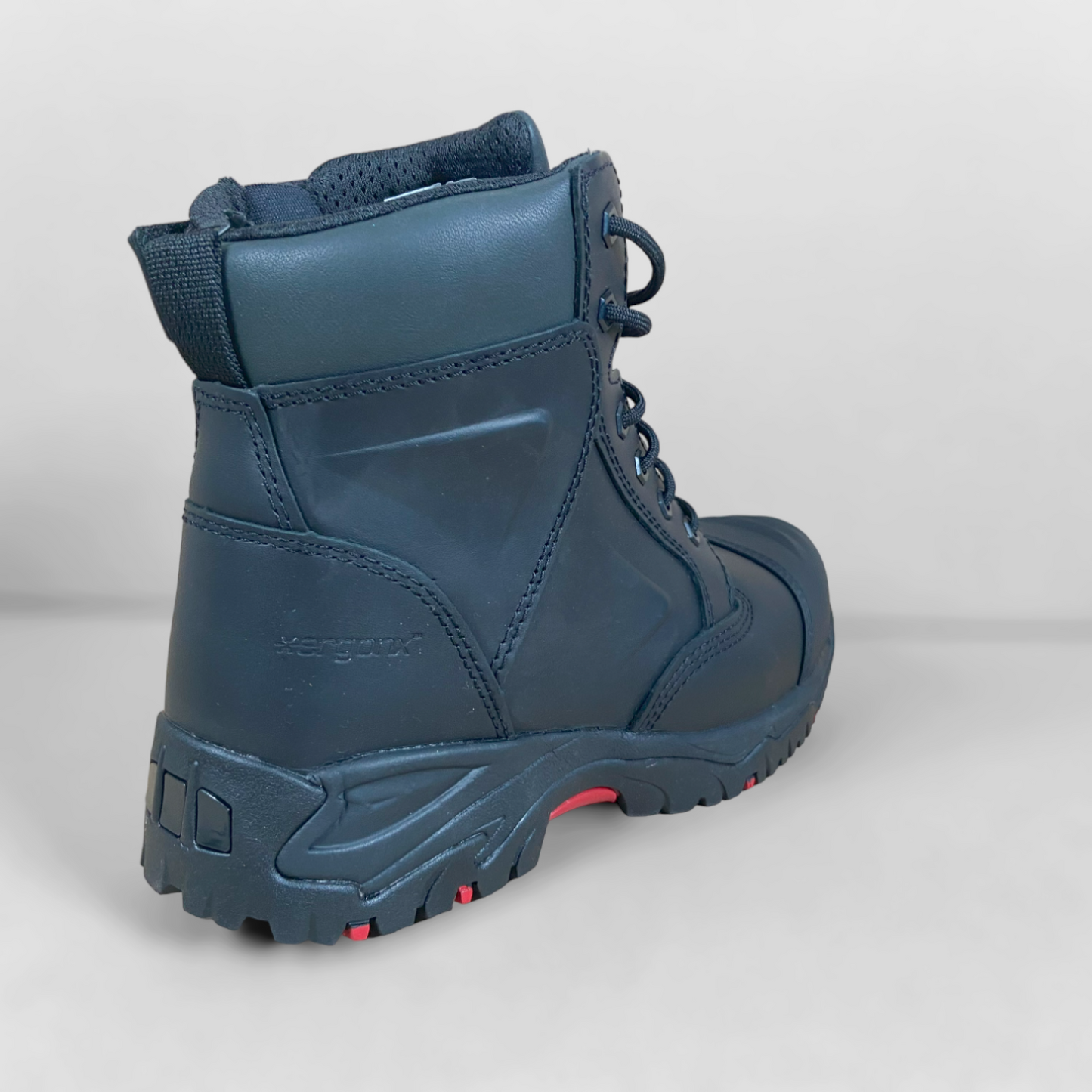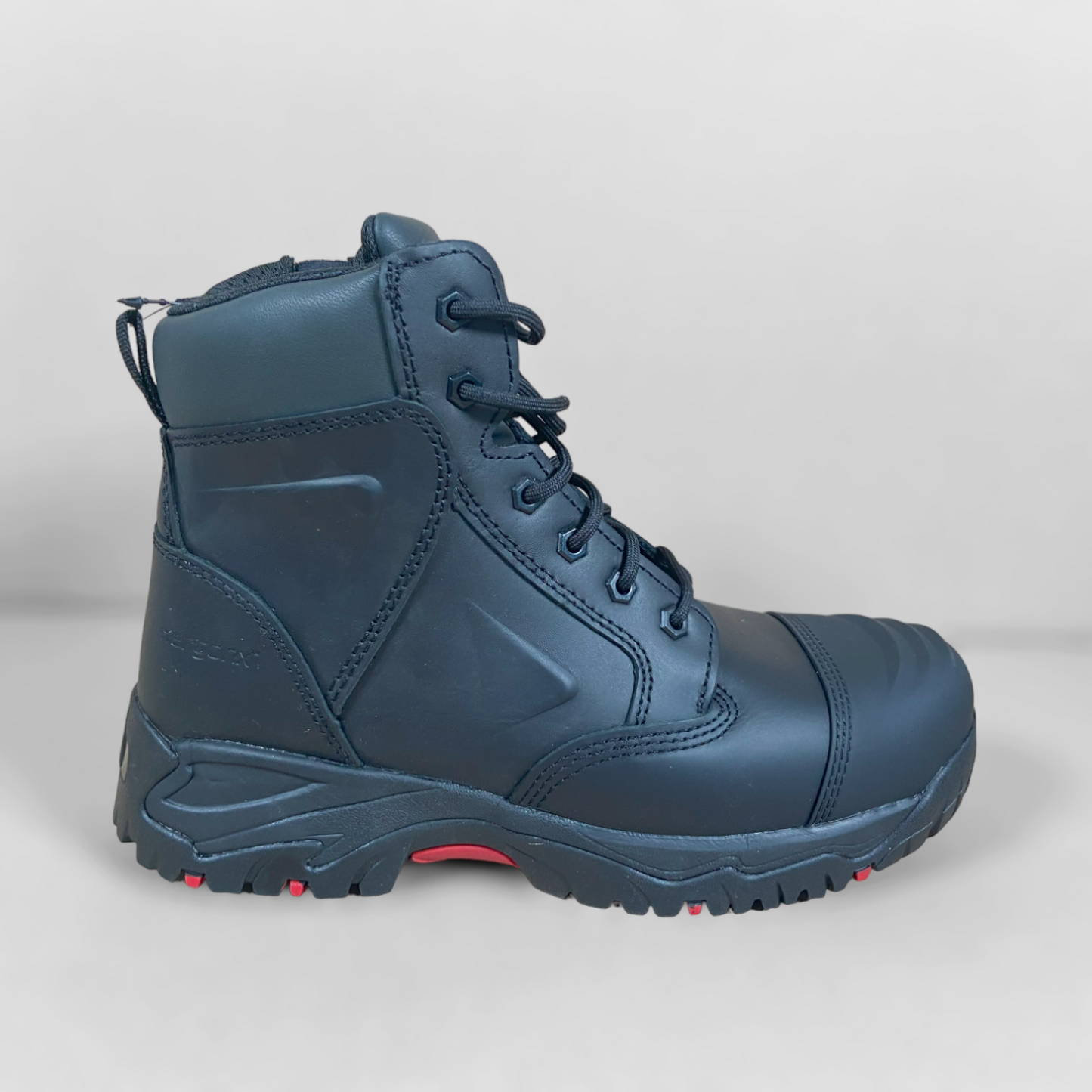 Podiatrist Review: It's what's on the inside that counts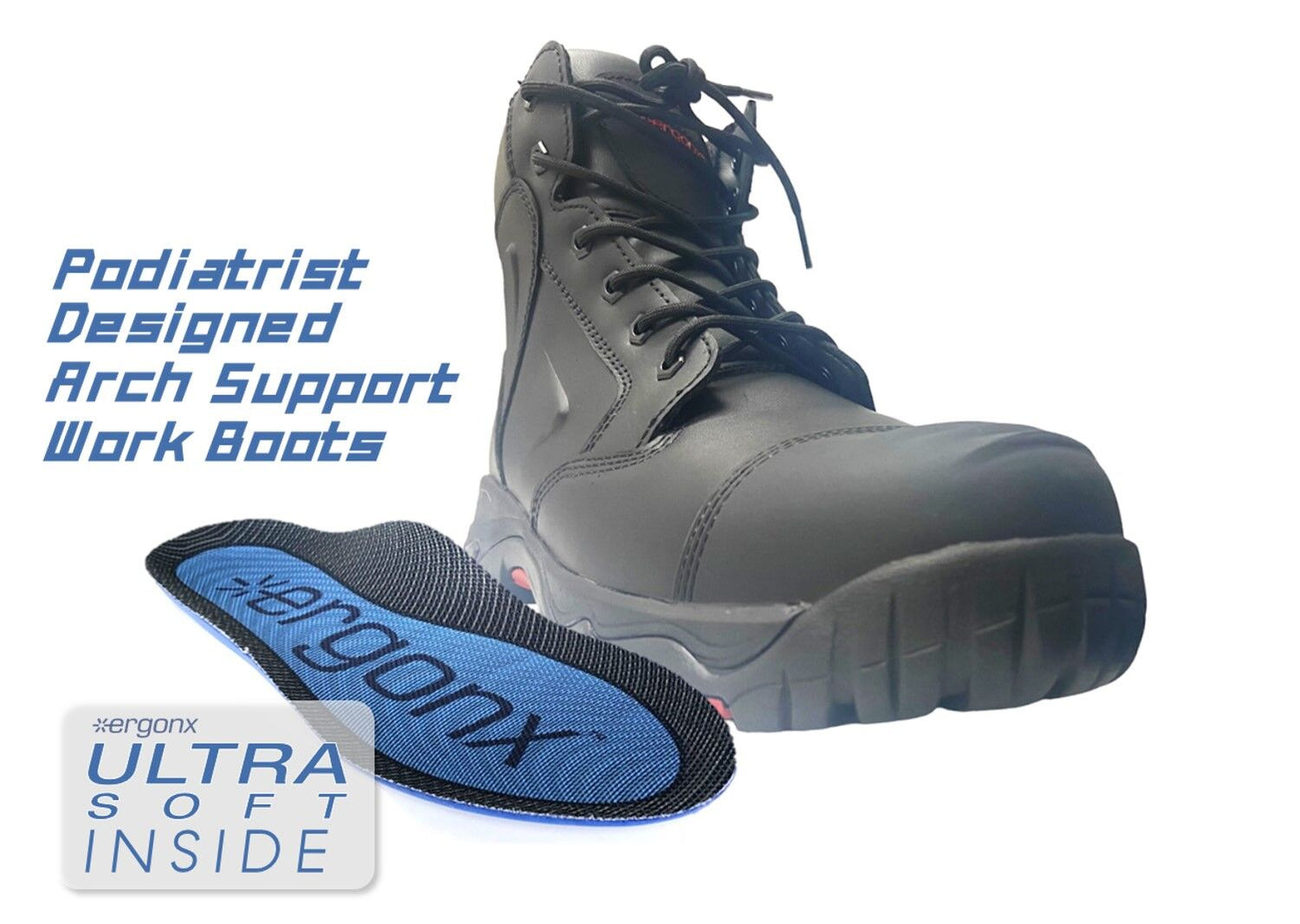 The ultimate arch support work boot
The ultra-soft arch support insole helps to further cushion the foot,  reduces fatigue, and makes our work boots extremely comfortable. By supporting the arches of the feet it helps to rest the supporting ligaments and muscles of the feet.

Comfort like never before... Our work boots come with as many features on the inside as they do on the outside! From additional padding to stop heel slipping to 300 degree heat tested soles…
It's what's on the inside that counts!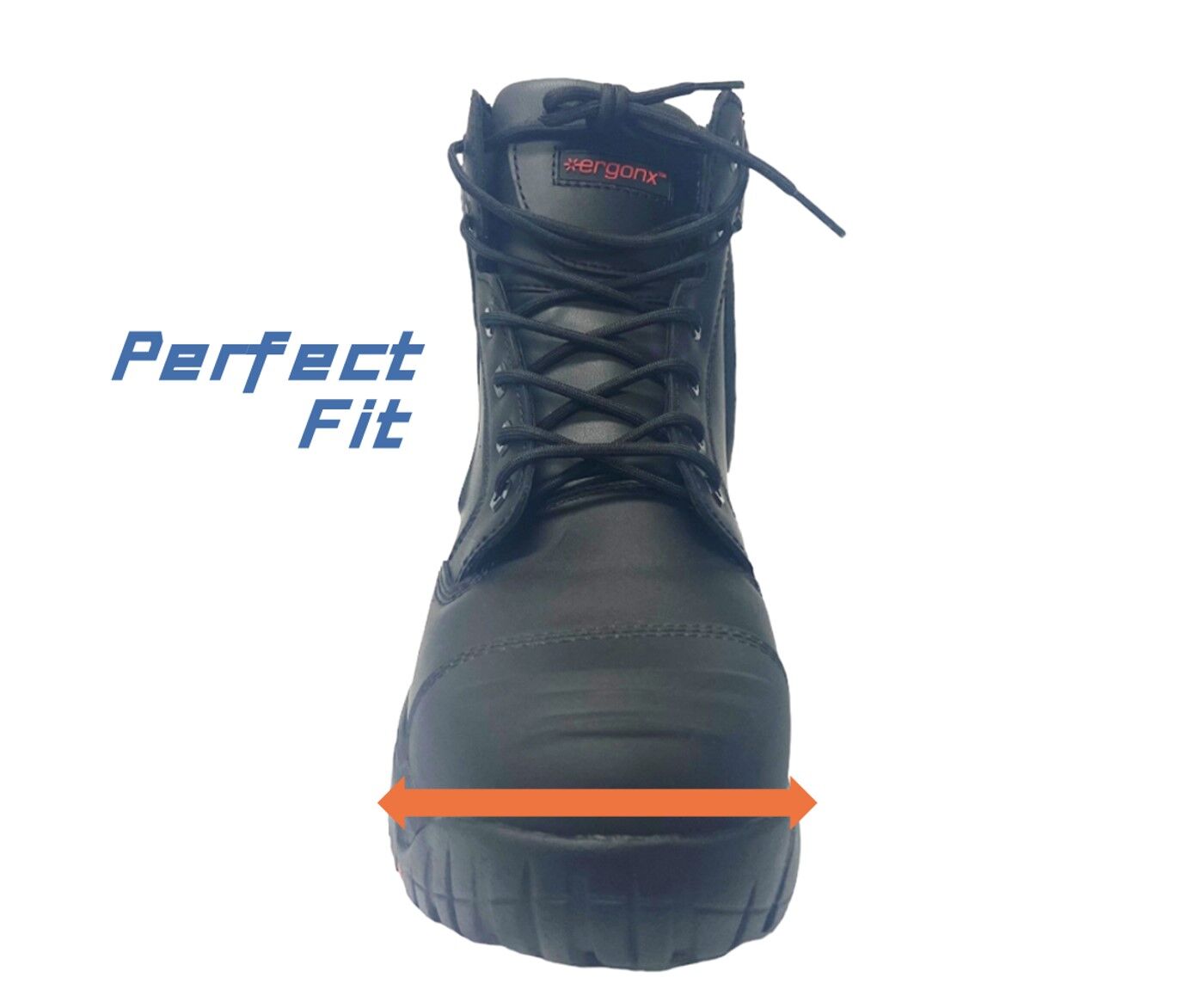 Podiatrist perfect fit
Our boots are made in a 2e fitting standard fitting but with a roomy toe area. Just like when you are fitting your shoes, the width of a work boot is very important to accommodate the toe and have the right forefoot support to prevent foot pain.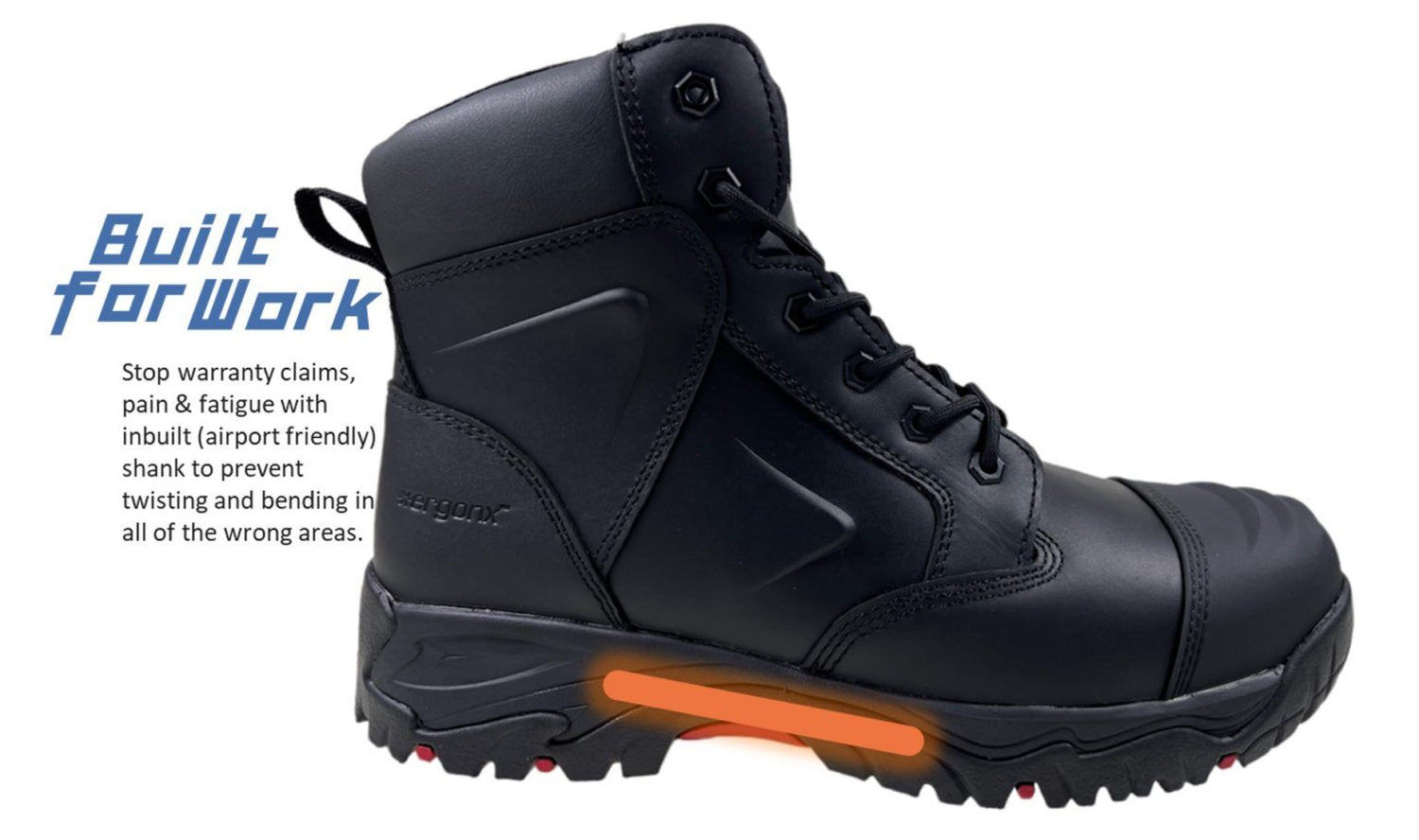 Designed to reduce arch pain, heel pain, back pain
Stop warranty claims, pain & fatigue with inbuilt (airport friendly) shank to prevent twisting and bending in all of the wrong areas
Work boots you can wear… anywhere
We have modernized the traditional steel shank by changing the material to polypropylene to make it airport friendly and lighter. The shank helps to add stiffness to the boot which helps to reduce strain over the middle of the foot and prevent foot pain.
Uneven ground can be difficult to work on, so when working on rough or uneven job sites it is best to have a more rigid boot that works with the natural movements of your feet. The embedded shank adds stiffness only allowing bending where your foot bends.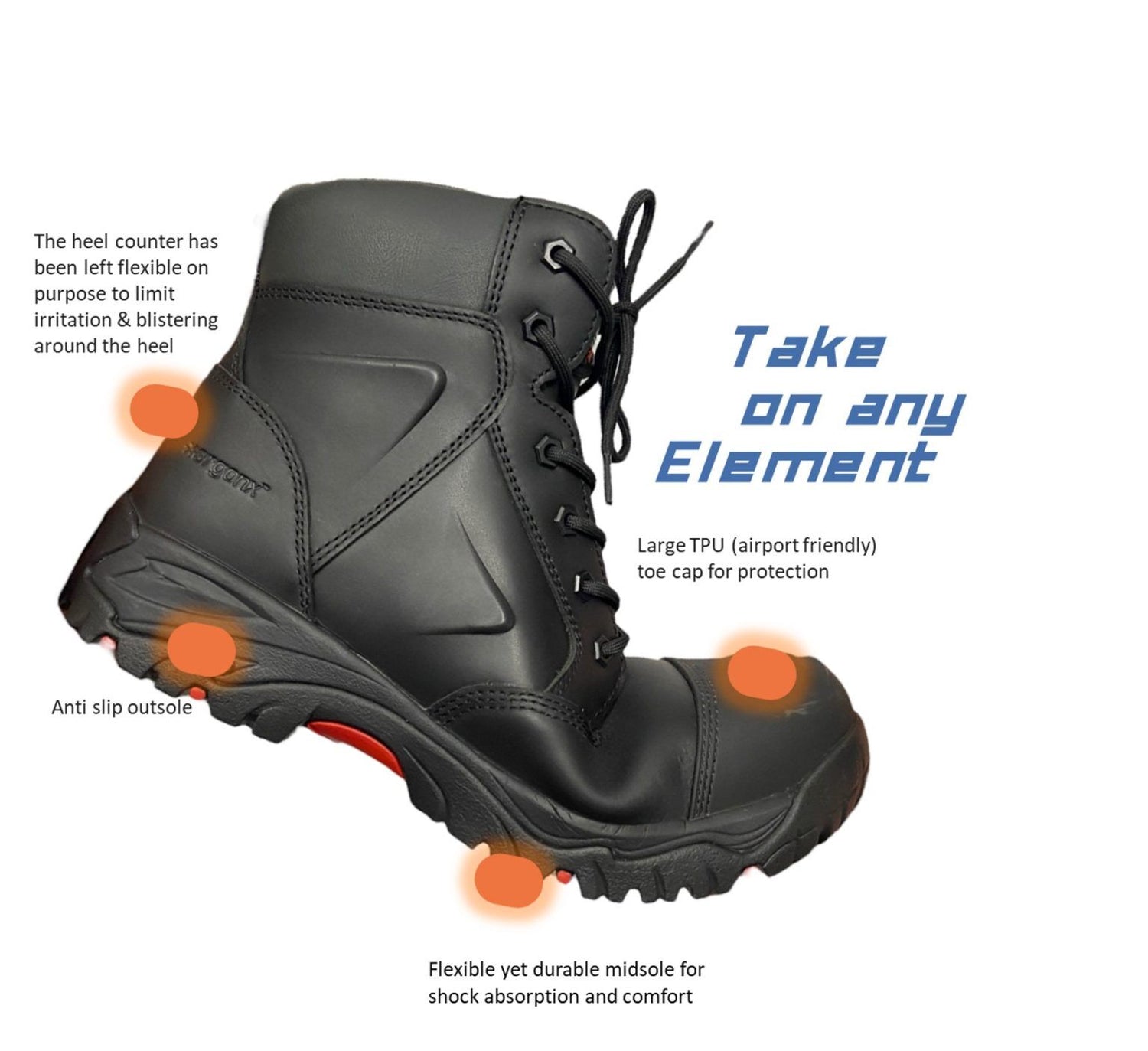 Light weight, flexible & durable where it matters mostRow
The lighter the shoe the less work you do carrying the boot around the site. While it is difficult to keep the weight of a boot with so many features down, our work boots are at the lighter end of the weight range. This will help to limit fatigue at the end of a long day.
Australian & NZ Safety Standard Approved Workboots
Ergonx Elements Safety Work Boots are tested to meet Australian & NZ Standards

Composite Toe Cap / Steel Cap Equivalent: We have replaced the traditional steel cap with a composite protective toe cap.  The steel cap in most modern safety boots has been replaced with a composite cap. P = Penetration resistance: Penetration resistance plate included in the footwear. A = Antistatic: To prevent the build-up of electricity to cause a spark. E = Energy Absorption: Extra shock absorption under the heel. SRA = Slip Resistant:  Slip Resistant 'Ceramic tile with sodium lauryl sulfate' HRO = Resistance to Hot Contact: The outsole does not melt, char, crack or craze when coming in contact with the 300℃ surface for one minute. FO = Resistance to fuel oil: The increase in the volume of the outsole shall be not greater than 12% after immersing in the fuel oil for 22 hours.
The Test Standards Safety Toe 200 Joules Impact Benefit:

The footwear protects the wearer's toes against the risk of injury from falling objects when worn in industrial and commercial environments where potential hazards occur with the following protection plus, where applicable, additional protection. What: Australian & NZ Standards AS 2210.3:2019 Standard. To test the safety toe /safety shoe with a drop strike test machine at an impact energy of 200 Joule, the clearance under the toecap shall be by the standard of different sizes. Where: Toe
Safety Toe 15'000 Newton Compression Benefit:

The footwear protects the wearer's toes against the risk of injury from crushing when worn in industrial and commercial environments where potential hazards occur with the following protection plus, where applicable, additional protection. What: Australian & NZ Standards AS 2210.3:2019 Standard. To test the safety toe with the plate of the compression machine until the load of 15000 Newton has been reached, the clearance under the toecap shall be by the standard of different sizes. Where: Toe
Safety Insert 1100 Newton Anti-Penetration Benefit: 

The footwear prevents the wearer's feet from puncturing or being injured by sharp objects or nails. What: Australian & NZ Standards AS 2210.3:2019 Standard. To test the whole sole assembly using a truncated nail of diameter 4,5 mm and a force of 1100 N. Where: Penetration resistance insert
A: Antistatic Footwear – Anti Static Electricity Benefit:

Static electricity finds ground through the boots. The purpose is to prevent the build-up o causing a spark. What: Australian & NZ Standards AS 2210.3:2019 Additional Classification. Antistatic Footwear. After conditioning in a dry and wet atmosphere, the electrical resistance is above 100kΩ and less than or equal to 1000kΩ.Where: Through the sole and insole of the boot. E: Energy AbsorptionBenefit: Superior shock absorption under the heel. See 'Cushioning' below for more details. What: Australian & NZ Standards AS 2210.3:2019 Additional Classification. Energy Absorption of Seat Region. Passes the test for shock absorption under the heel. Where: Under the heel
SRA: Slip Resistant with sodium lauryl sulphate on Ceramic Tiles Benefit:

Provides sufficient slip resistance to prevent a fall when working on soapy wet tiles. What: Australian & NZ Standards AS 2210.3:2019. SLS (soapy water) solution on ceramic tile test. The slip resistance coefficient o contact is ≥0.28, and the slip resistance coefficient with whole shoe flat contact is ≥ 0.32. Where: Outsole
HRO: Resistant to Hot Contact (300ºC) Benefit: 

Ideal for people occasionally stepping on hot surfaces/objects while working. What: Australian & NZ Standards AS 2210.3:2019 Additional Classification. Resistance to Hot Contact. The outsole does not melt, char, crack or craze when coming in contact with the 300ºC surface for one minute. Where: Outsole FO: Resistant to Fuel OilBenefit: For people stepping on the floor with fuel oil while working. What: Australian & NZ Standards AS 2210.3:2019 Additional Classification. To immerse the outsole in the reagent for 22 hours, the increase in volume shall be not greater than 12%. Where: Outsole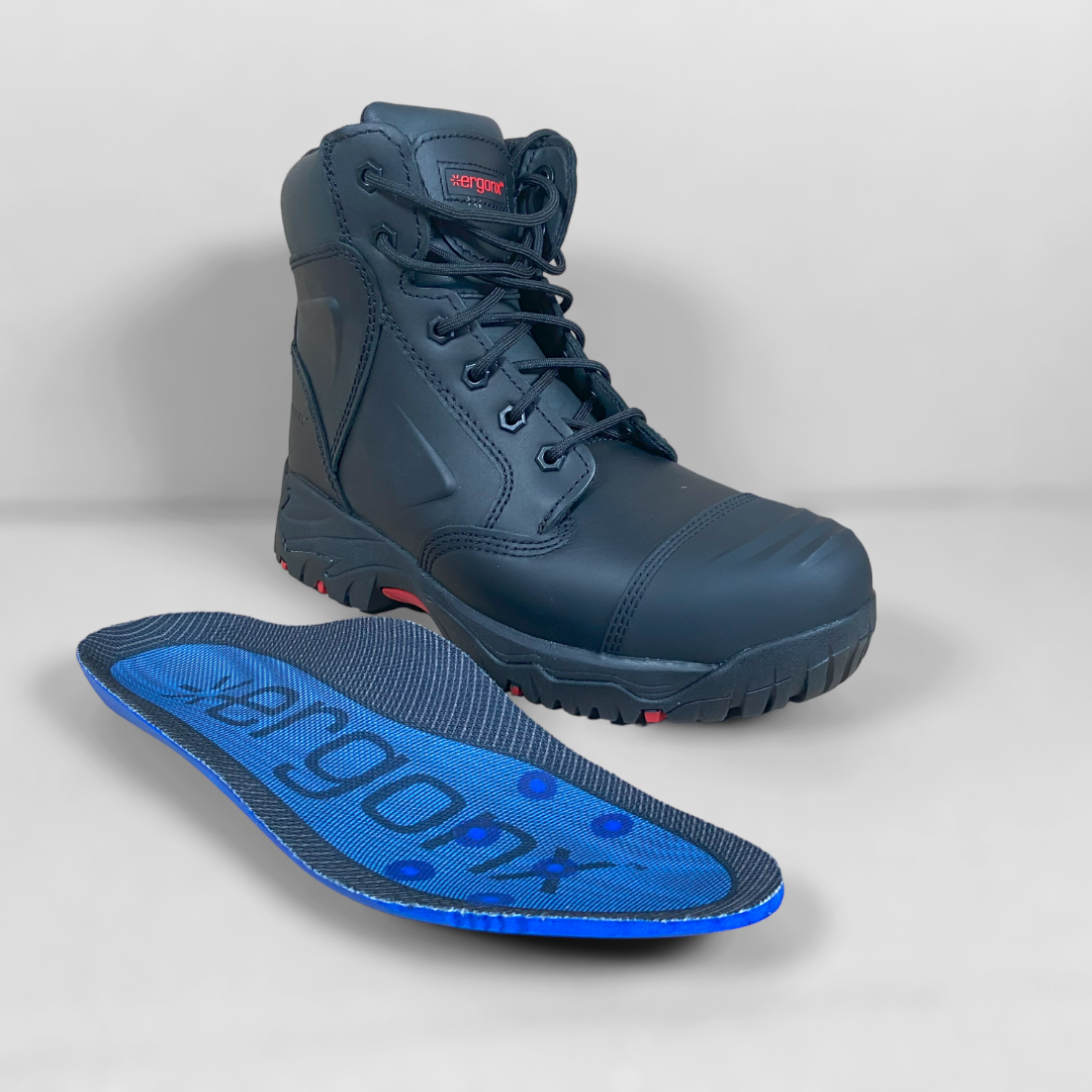 STOP SCROLLING & START SHOPPING WITH OUR RISK FREE DELIVERY & FREE RETURNS
Ergonx Safety Boots Lace Up (Helium) Black
Regular price
$239.95 AUD
Regular price
$218.14 AUD
Sale price
$239.95 AUD
Unit price
per
Sale
Sold out
Share
View full details